2017 was an exciting year for Ageless interAction. We worked closely with The Westminster Schools to develop a semester-long Social Ethics of Aging class that introduced a group of high-school seniors to AI's innovative concept, The Ethics of Aging. AI continued work at The William Breman Jewish Home and Adult Day of Dunwoody. We also fulfilled a long-held vision of painting a mural at a senior community, Amy's Place. As you will read, we painted this mural with a people experiencing various forms of Dementia and also held a BYOG "Bring-your-own-grandparents" painting class with WonderRoot!
The Westminster Schools Social Ethics of Aging Class
In 2017 our main efforts focused on implementing an innovative curriculum for the Atlanta-based Westminster Schools' senior-level Social Ethics class.
The process of bringing Ageless interAction to Westminster was five years in the making, as AI founder Meagan Jain first met with the educational team back in 2012. This year, the school reached out, and the institution's very first Ethics of Aging class began.
AI, the Westminster Schools' Department Head of Religious Studies, Kay Soloman and Upper School Service Learning Coordinator, Meghan James created The Ethics of Aging a class looking at moral issues and the families of theories that have helped shaped the field of Ethics, thus encouraging students to engage in personal reflections on ethical considerations. To cap it all off, this was an elective course, meaning that the seniors that took this class actually wanted to be present and engaged in the coursework. The class studied theories and thought processes like The Ethics of Happiness, The Ethics of Person, and The Ethics of Virtue, in addition to studying philosophers like Immanuel Kant. Ageless interAction fused considerations on the Ethics of Aging with the service learning component - a task which had never been done before in similar coursework.
The first two field trips took students to tour two senior communities, one an affluent and all private pay independent living community, the other a Medicaid funded health and rehab enabling them to think about aging in terms of race, class, socioeconomic status, and how those factors impact age. The students visited two additional senior communities to meld the medium of visual arts with intergenerational socialization; resulting in applicable ethical considerations in their studies.
Meeting throughout the semester in a classroom setting and visiting senior communities five times throughout the semester provided students the opportunity to answer the following questions: what is aging? What is age? How do we interpret ourselves as aging individuals within a social context that teaches first teaches us how to think about age before we experience our own aging process.
In a class assignment one student wrote, "What made sense was the dire need for change in the American government to fund public nursing homes. I can better define aging as a process, rather than a limitation." Another said, "This class will change the way you think about everything. It is very important that you read the textbook, it's very interesting and will help you alot! The best parts of this class are the field trips. You will be able to form relationships with people in the aging community and also learn a lot about aging."
As the class came to an end, six high school seniors held a panel discussion with four older adults ranging in ages from 65 to 88. The students were able to ask the panel what their experiences surrounding age and race, life choices and chances, and how they relate to responsibilities as older adults.
The best outcome of our semester long involvement with our first Social Ethics of Aging class, was to hear students say, "Aging, as it was a main focus with you, stuck with me more than anything else. You helped me to think about aging in a way I had never thought about it before. Now I can see aging as something that should be discussed in our community on a much larger platform. Thanks again!"
The William Breman Jewish home
At the William Breman Jewish Home, founder Meagan Jain continued teaching art to five elder women. AI developed a relationship with The Breman Home in 2016. As the sole instructor, Meagan focused her efforts on making the experience a one-on-one process, which she is passionate about developing further. Older adults living in nursing homes often have to follow strict schedules decided by staff and administrators. AI has been able to provide residents of this nursing home an ability to create through choice. Meagan guides Elder women through loosely-defined painting classes that allow the women to explore and create how they feel fit. While painting flowers, for instance, Meagan shows the group loosely how to paint the flowers, allowing them to interpret and create their own artistic visions and expressions. The creation of art is impactful for residents, as they get to choose how to express themselves. That freedom of choice is something we often take for granted as autonomous beings living outside of institutionalized senior communities.
This year, Meagan fused the Westminster Project with her work at the Breman Jewish Home. The students of the Ethics and Aging class visited and painted with the women Meagan started painting with in October of 2016. During these classes, the students and residents painted flowers and under-the-sea adventures. After each class, the students ate lunch with the women, getting to know their stories while also being able to share theirs.
One of the most beautiful aspects of AI's work with the Bremen Home was witnessing the startling changes in the residents' artwork from when they began through the end of the year. AI works with two groups: one is self-directed, and the other is more guided, but both make incredible strides in their artistic goals and capabilities, proving that there is still purpose in the freedom of expression and choice. Even as these women's health is ever-changing throughout the aging process, they are still able to create works of art that are solely their own. It is through this person-centered approach that this creation is able to flourish and thrive through any Ageless interAction experience.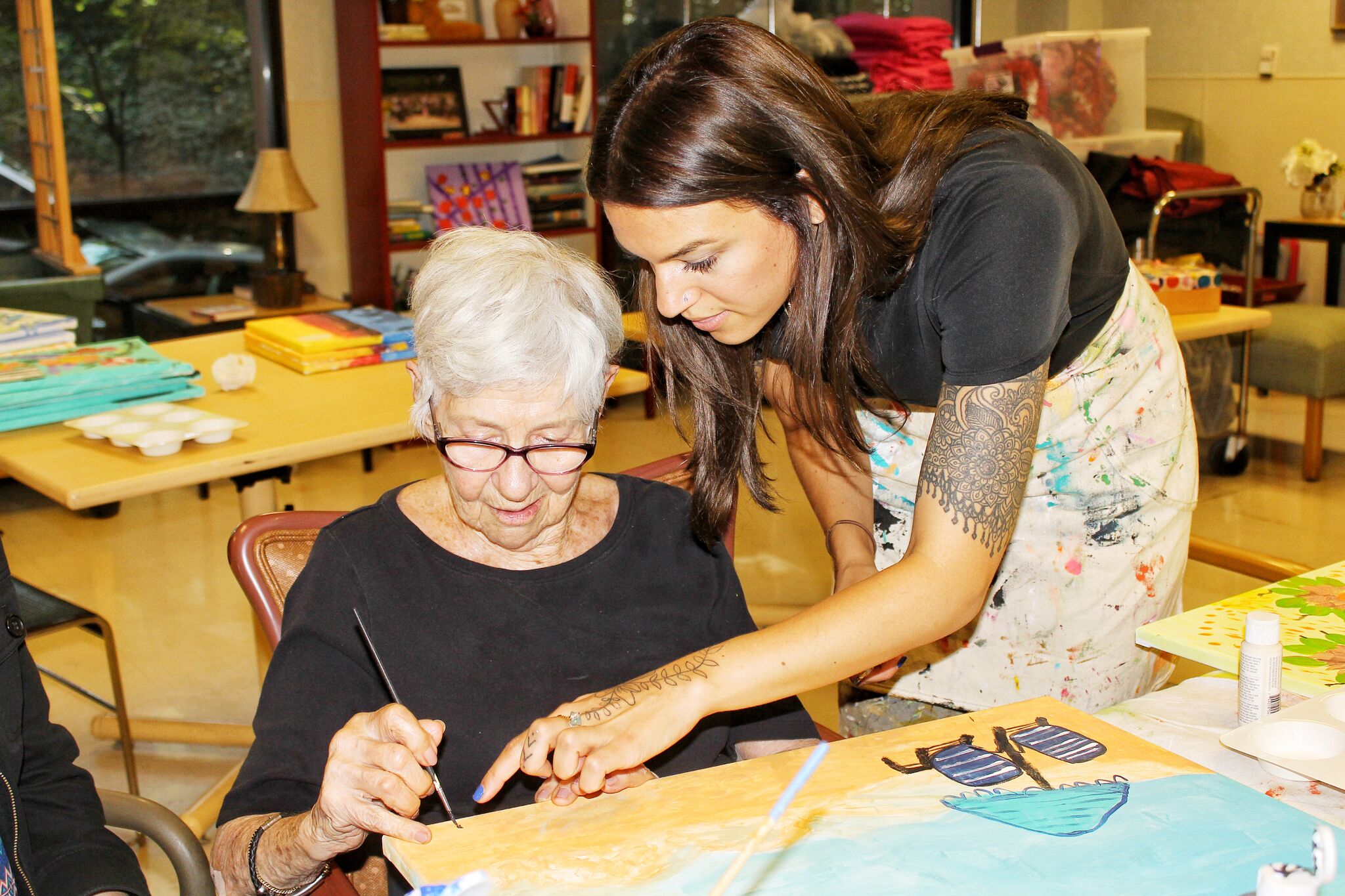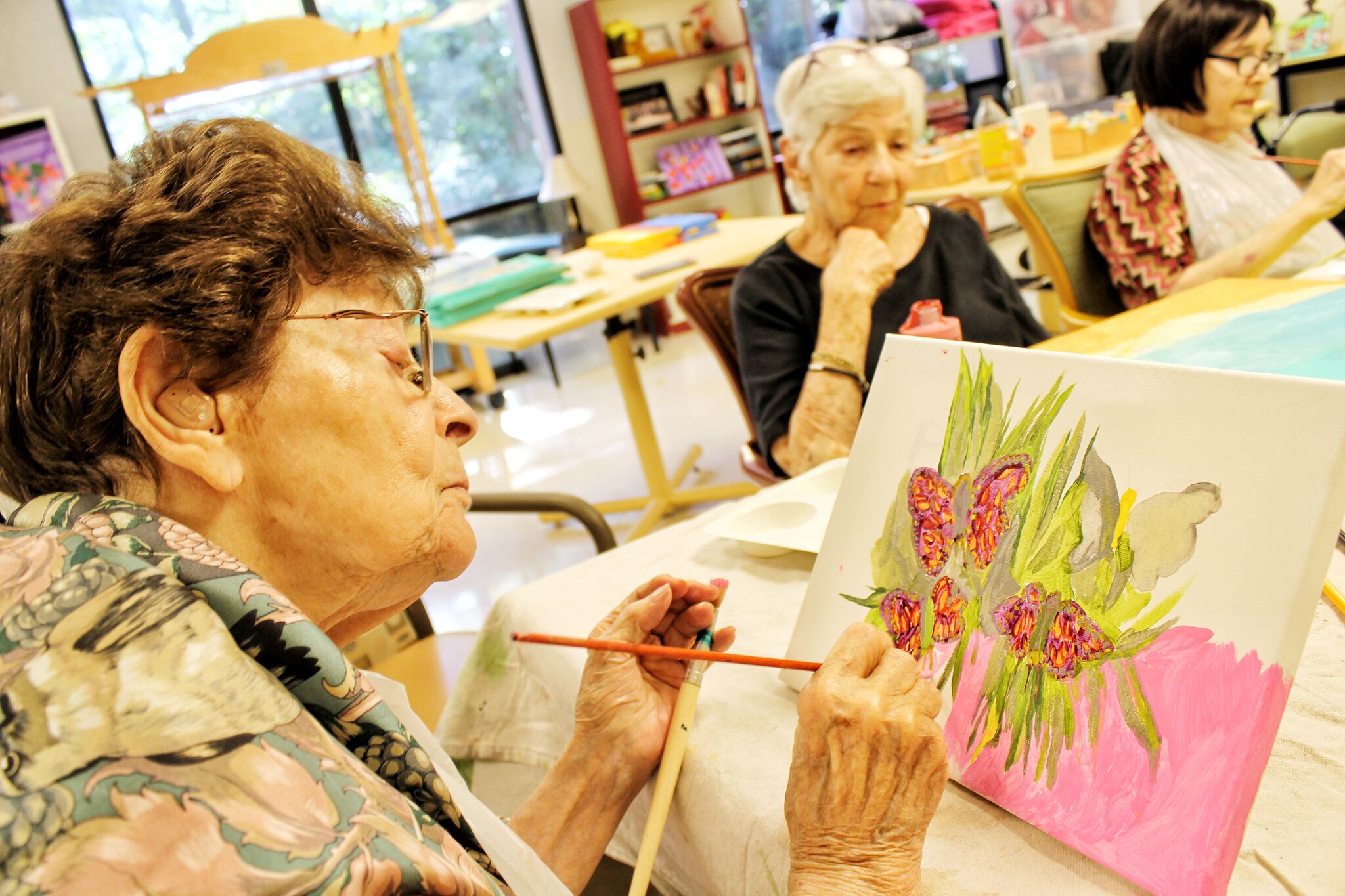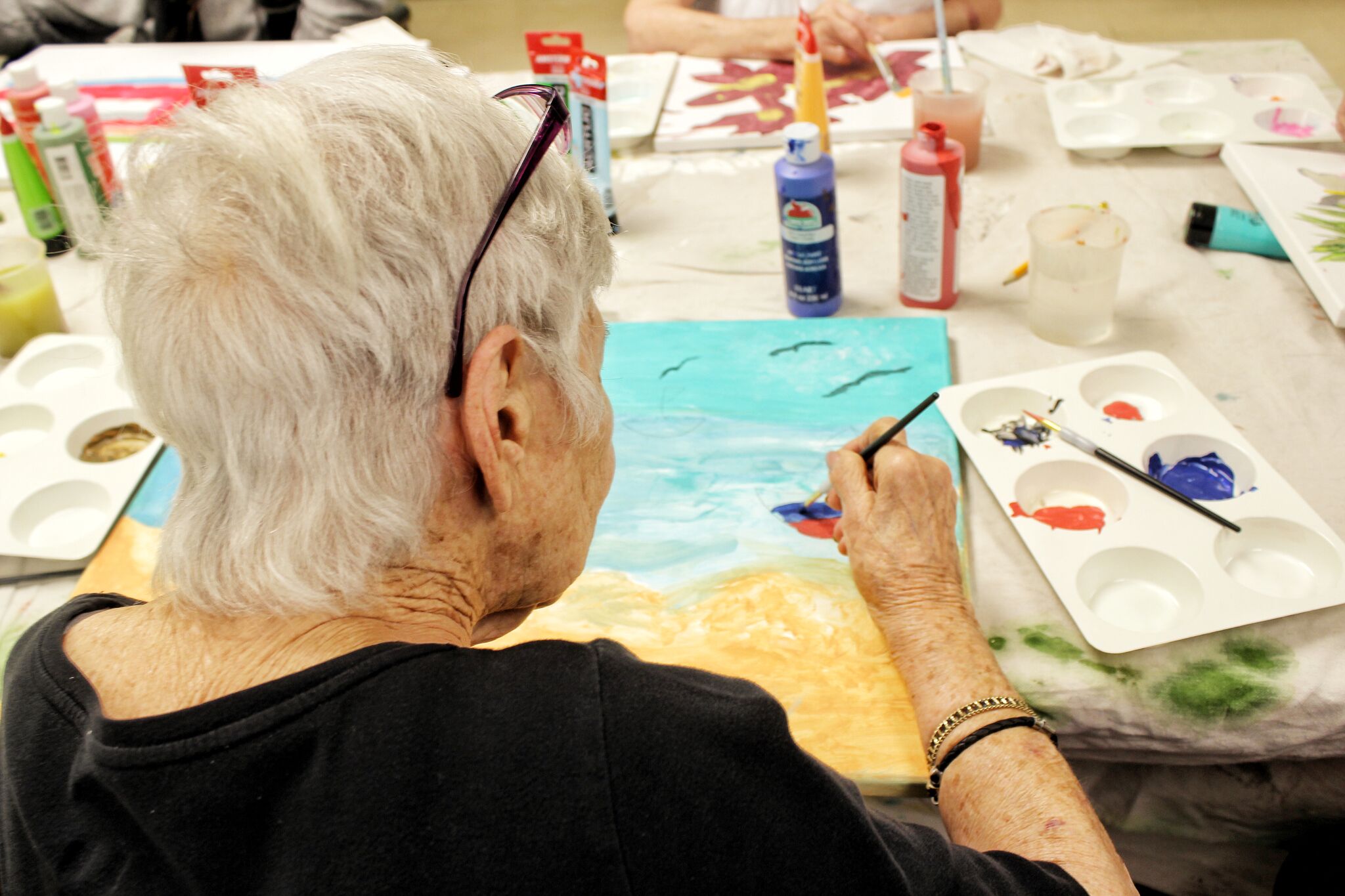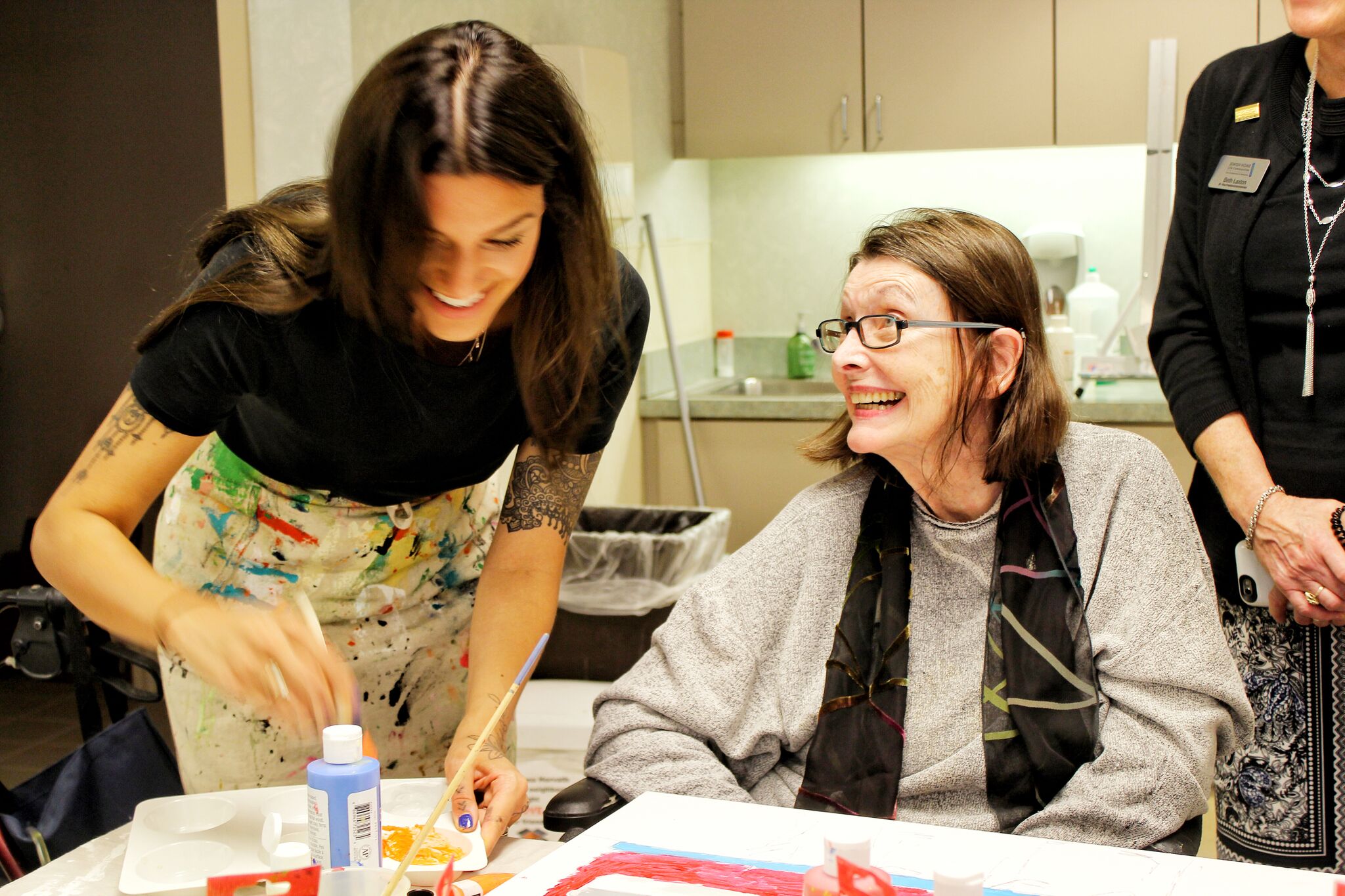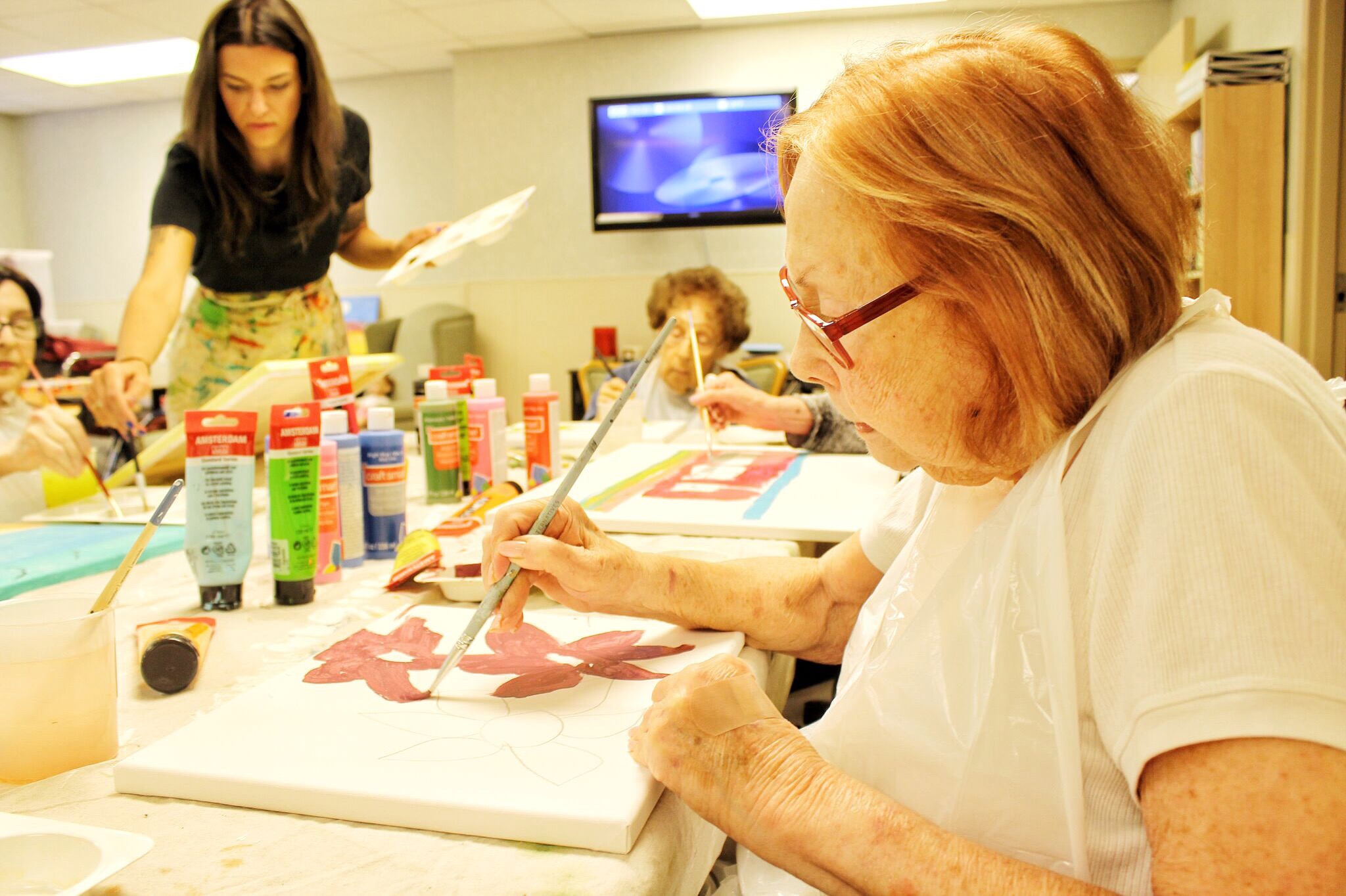 Adult Day of Dunwoody
Ageless interAction worked with an adult day program in Dunwoody, Atlanta, Georgia, to connect their participants with local artists. AI brought people from the community together to paint and create with the elders in the program, resulting in monthly group painting experiences. During one painting event, 5 art students from Morgan County High School (Madison, GA), came out to to create intergenerationally. At this 'social club' for older adults, some have diseases that range from Parkinson's to dementia, with many of them needing one-on-one assistance and a more guided, hands-on experience. In addition to making unique creations utilizing visual art as a medium, the group enjoyed live music alongside painting.
The first-ever memory care cafe in the country, Amy's Place is a group cafe setting where those with dementia and Alzheimer's and their families can come, hang out, grab a bite to eat or something to drink, and participate in social activities provided by Amy's Place and non-profits, like Ageless interAction. Being that the Amy's Place community is dementia-friendly, and focused on community outreach, it fits right in line with the AI's mission of redefining how we think about age and the aging process through visual arts.
Meagan and Pam, the Executive Director of Amy's Place, also worked on a mural event for the families of Amy's Place. On a Spring Saturday afternoon, those living with dementia, their caregivers, and loved ones came together to work on a mural. People all the way up to age 98 painted on a wall at Amy's Place. This was our first mural project and we hope to build upon it since murals are great opportunities to get people of all ages to create together in ways that not only provide for creativity, but also impact and shape environments.
WonderRoot
Ageless interAction loves working with other nonprofits, and Atlanta's WonderRoot is no exception. WonderRoot is "an arts organization that works to improve the cultural and social landscape of Atlanta through creative initiatives and community partnerships" - a mission statement right in line with AI's own. We were thrilled to partner with WonderRoot's new 2017 initiative, which they call "Family Root." The purpose of the initiative is to "promote interaction and civically-oriented communication between artists and families." AI implemented a BYOG - "Bring Your Own Grandparent" - workshop in October into the Family Root program, which included a familial, intergenerational painting day that all ages greatly enjoyed.